Mrs. Delores Gilliard, Principal
Education: BA, Benedict Colleges
Masters + 30 University of South Carolina
Read to Succeed Endorsement
I am Delores Gilliard, principal of this amazing school with a dynamic faculty and staff. We are committed to working together, sharing ideas, and maintaining a school climate that is rooted in our Catholic identity. We provide students of diverse faiths a rigorous curriculum which allows for academic success in all areas.
Antoinette Wright
1/2nd Grade Teacher
Vice Principal
Two Time Teacher of the Year Recipient
Education: BA Early Childhood Ed
Benedict College
Greetings ,
My name is Antoinette Wright. I have the privilege of teaching for 25
years at St. Martin de Porres Catholic School. I have taught Kinder-
garten, First and Second Grades. I have a love, passion and joy for
what I do. Each day is a new day to inspire the love of learning and
expose the students to new things and a new of thinking and
discovery.
Favorite Scripture: Trust inthe Lord with all your heart, and lean not on your own understanding. In all your ways acknowledge him and he will direct your paths. (Matthew 20:16)
Gwendolyn Meadows, Administrative Assistant
Education: Bachelor of Science in Elementary Education from Bennett University in Greensboro, North Carolina
My name is Gwendolyn Meadows and I thank God for letting me be a part of this amazing school for seven years. Every single one of our students is called to a beautiful life of fulfilment and purpose. The variety in which their different paths manifest is an incredible thing to witness.
My favorite scripture is Psalm 123
Religion and Art
Doris Goodwin Arvelo
Education: BA Morris College and Graduate Studies: University of South Carolina
Doris Goodwin Arvelo, I am a dedicated Catholic school teacher. My work started over 40 years ago. As an educator, I believe that "Every Student is a Shining Star." I have authored enumerated opportunities for children to reach their fullest potential through my tenure at St. Martin de Porres Catholic School. My service to St. Martin de Porres is a vocation that ignites a persistent passion within me to work hard to provide the best early education possible for my students. Through my vocation, I have developed a strong dedication toward the mission of Jesus Christ in Catholic Education.
Favorite Scripture
The student is not above the teacher, but everyone who is fully trained will be like their teacher. Luke 6:40
Monique Bing, LMSW
School Social Worker
Education: Bachelor of Science in Criminal Justice (University of South Carolina Upstate)
Master of Social Work from (University of South Carolina Columbia)My name is Monique Bing and I am a licensed Master Social Worker (LMSW) by the state of South Carolina. I am currently St. Martin de Porres Catholic School very first School Social Worker. My education and career have always focused on my passion for working with children, youth and families.
Favorite Quote: Children are the world's most valuable resource and its best hope for the future. –Unknown
Shelley Bilal, Music Instructor
Education: Bachelor of Art in Music Performance, Benedict College
My name is Shelley Bilal and I have been at St. Martin de Porres Catholic School for six years teaching music in grades Pre-K through fifth. I am also the musician for St. Martin de Porres Church's Gospel Choir.
My interest in music began in the church, youth choir, and at home listening to music of the gospel greats. Later, I became interested in contemporary jazz and spent many years listening to classic jazz. I have been honored to have performed on the platform with many great artists, Aretha Franklin, Gerald Albright, Chaka Khan, Christopher William and The Clark Sister. Beyond being a veteran trombonist, I am also fluent in other performing areas as a pianists, singer, and other brass instruments!
Ms. Maria Cooper
Education: Master of Arts in Teaching (MAT) from University of South Carolina, 2005
Bachelor of Arts in English, Minor: Early Childhood Education from University of South Carolina, 2004
My name is Maria Cooper, and teaching is my passion; in the classroom, I am at my best. Teaching is at the center of all I do – it inspires me, it fulfills me, it completes me.
I love to watch "lightbulbs" go off in the heads of my "little people" when they figure out how to do something or learn something new! It truly is magical to me! They are at the beginning of their education experience, and I try to instill in them a love for learning.
Favorite Quite: "What lies behind us and what lies before us are tiny matters compared to what lies within us" ~~ Ralph Waldo Emerson
Mrs. Teresa Ervin
Education: Associate of Science (AS) Childhood Development
Hello! My name is Teresa Ervin. I have been teaching for 34 years at St. Martin de Porres. I have been working with the SC First Steps program for the last five years. I really enjoy getting to interact with students and their families.
Favorite Quote: Every child is gifted. They just unwrap their packages at different times. -Unknown
Mrs. Ophelia Greene
Title One Interventionist
Education: BA Degree in Elementary Education and Master's Degree in Early Childhood Education from University of South Carolina.
My name is Ophelia Greene. I retired from Richland County School District One and worked in Darlington and Fairfield Counties. I am currently the Title One Tutor at St. Martin de Porres Catholic School, and work with students in Kindergarten, first grade, and third grade. It is truly a blessing and an honor to be at St. Martin, and to work with a great staff, teachers, students, and parents.
Kindergarten Teacher
Ms. Carmen Hare
Education: BA Educational Studies, MA Innovation and Divergent Learning
Columbia College SC
My name is Carmen Hare and this is my first-year teaching and my second year at St. Martin de Porres Catholic School where I served as the Title One tutor and where I currently serve as the kindergarten teacher. Teaching has always been my dream and I love that I am the leader for the great minds of tomorrow and my passion is helping and encouraging students to become lifelong learners through faith, love, critical thinking and problem solving.
Favorite Quote: Be on guard. Stand true to what you believe. Be courageous. And everything you do must be done with love. (1 Corinthians 16:13-14)
3/4 Grade Teacher
Mr. William Miller
Education: BA +18 Elementary Education
Gifted and Talented Endorsed
Morris College
My name is William Miller and I have taught for many years and held many positions in the public school system. This is my third year at St. Martin de Porres Catholic School where I serve as a third and fourth grade teacher. I have a passion of teaching and love what I do. It gives me great joy to see students grow and reach their full potential.
Favorite Quote: If your gift is serving others, serve them well. If you are a teacher, teach well. (Romans 12:7)
Linwood Randle
Building Supervisor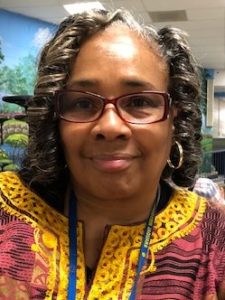 Ms. Jacqueline J. Smalls
Education: Bachelor of Science in Early Childhood/ master's in education Curriculum and Instruction/With a Specialization in Computer Education, also earned a Certificate in Medical Coding. I have 21 years in Education and 20 years of public service with the South Carolina Retirement Systems (PEBA)
Benedict College, University of Phoenix on-line and US Career Institute online
 I have worn many hats and job description, I was the Computer Lab Manager, and one of the school's MAP Coordinators. I have done additional work in Troubleshooting Computer Network, and worked as the Liaison for the school PTA. I have been with St. Martin de Porres Catholic School since September of 2021. My passion is to share not only academic, but the knowledge of life skills to our children and help them to be better prepare for the future.
My favorite and life scripture are the 23 Psalms.
Ms. Scott / PreK-4 Instructional Assistant
My name is Patricia Scott and I have been at St. Martin de Porres for over 30 years.  I work with the PreK-4 class. It has been a pleasure and an honor to have been here at St. Martin for so many years. What I love about my job is the collaborative efforts of the staff and parents in making sure that each child reaches their full potential.